The REUNION project (Rehabilitation of foreign inmates within the scope of FD 2008/909/JHA) aims at contributing to a more frequent execution of FD 2008/909/JHA via mutual learning activities, through the update and creation of training materials (e.g., a thematic database of jurisprudence, case-law workbook) but also by the implementation of training activities to enhance the proper execution of FD 909, having judges and prosecutors as its principal target group, but will also lawyers, courts, prosecution offices and prison staffs.
The first project objective is to establish the preliminary work for adequately supporting judges, prosecutors, lawyers, court and prosecution offices' and prison staff when dealing with cross-border execution of judgements involving the deprivation of liberty, more specifically, FD 909.
The second objective is to contribute to originating and broadening knowledge between the target group alongside the update and production of learning materials and the organisation of cross-border training activities.
The third objective is connected to creating distance-based and sustainable training programmes on the effective application of FD 909. They will touch upon its theoretical and practical thematic and how the target group can best use it.
Finally, REUNION's activities will stress the importance of FD 909 for the detainee's social rehabilitation and how some practical challenges block its effective implementation in the EU Member States. At the same time, REUNION's activities will strive for close cooperation between judicial authorities, therefore contributing to "increased knowledge of […] criminal law and fundamental rights […] improved mutual trust between justice professionals in cross-border judicial cooperation. The project will directly reach at least 548 stakeholders.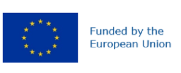 "Funded by the European Union. Views and opinions expressed are however those of the author(s) only and do not necessarily reflect those of the European Union or the European Commission. Neither the European Union nor the granting authority can be held responsible for them."